These are difficult times as we face the worry of the expanding coronavirus and uncertainty of economic challenges while, at the same time, having to quickly learn and adapt to entirely new ways of working and interacting in the world of "social distancing". The coronavirus threat affects everything in our world -- from our personal lives, our partner's lives, our friends and family members, and our broader relationships in faith and business.
Partnering has been a human contact profession. We're accustomed to building trust through shared experiences with our partners -- through shaking hands, in-person meetings at events, sharing smiles, meals, whiteboards, and the occasional brainstorm. It's what ties us together.
Partnering now has to shift its mode of work from physical to digital. We need to work digitally with our ecosystem to be resilient. We need to give each other more visibility to reduce volatility and surprises in these turbulent times. And that is how WorkSpan can help you. We're here to work with you to digitize your partnering initiatives. Manage & track collaboration with status updates, content, and plans across company boundaries.
Join Mayank Bawa, CEO, and Founder, at WorkSpan for a webinar: Lead Your Partner Ecosystems Through the Coronavirus Crisis
He will share:
How Ecosystems are critical to your business
Why transforming Ecosystems to digital is the key success in these challenging times
Where to start your digital Ecosystems journey
---
Speaker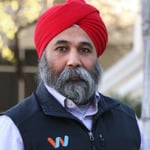 Mayank Bawa
CEO, and Founder at WorkSpan